Pastel Drawing for Beginners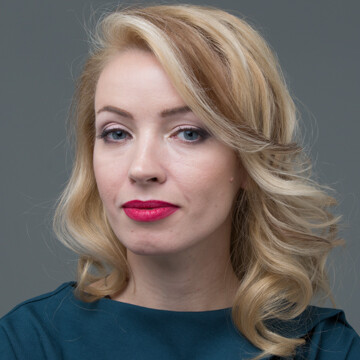 Hello! My name is Elena Tatkina. I am an Artist, a Teacher, an Art Director, and a Production Designer. As a Computer Graphics Producer, I participated in famous movies including "The Turkish Gambit", "The Brest Fortress", "Mongol" etc.
At Veronika Kalacheva's Art school I have the privilege of teaching the course of pastel drawing.
Pastel Drawing for Beginners—
Get a New Perspective!
The pastel drawing tutorial has been a significant course that has contributed over 2 years to the Schools program. It became immensely popular resulting in other schools using it as a basis for their own classes.
Thousands of students have successfully completed the first version of the course and provided several positive comments and feedback.
We analyzed the process of the lesson by reviewing the education, including all the errors, feedback, and suggestions, and decided to improve the course to meet the needs and standards of our students.
Meanwhile, there have been several new techniques and pastel materials which have emerged recently, and we are continuously adapting our course and improving it to keep up with the changes.
We have added new topics and tasks to ensure the explanations are more informative and interactive for our viewers. This change has resulted in our lessons and tutorials being more engaging and interesting.
A lot of long and hard-working months of passion and experience has gone into this, and here you go – we reveal to you, the brand-new course, "Pastel drawing for beginners!"
This course is completely different to the previous one and compared to the rest of the other schools. Now, you will be able to find more modern lessons, updated topics, and super-efficient techniques that will equip you to deliver amazing results.
Even if you had been studying with us during the first course, we guarantee that you will be able to find new tasks and skills in this new and improved course.
This is a really unique course
The methodology of this course is based on the academic foundation of pastel drawing while offering an entertaining way of teaching.
The course is not just a series of videos, but rather a well-built, thoughtful methodical program based on years of teaching experience.
All the tasks were revised and contain new techniques, better materials, and improved lesson topics.
The course contains actual knowledge about pastels: how and where to properly store it, what is used for the drawing, how to prepare the workplace, how to combine the colors, and how to improve the quality of the piece.
The course consists of three practical blocks, including the drawing of landscapes, still-life, and animalism. You will have access to the tutorials to practice and consolidate your skills at your own pace.
The tasks are created from interesting scenes and after you complete them, you will have a ready-to-use drawing which can be used in your portfolio and not merely just for a frame.
The course includes unique topics and beneficial lessons that no other school offers.
THE AUTHOR OF THIS COURSE
Since 2001 she has been fulfilling her role as an Art-director and Production Designer in computer graphics for movies, ads, and multimedia.
She has taken part in famous movies such as "The Turkish Gambit", "The Brest Fortress", "Mongol", "Old Riga" and "Dark planet1".
She has been teaching since 2005 (NRU MIET) mainly in the Faculty of Design as a Senior Teacher focusing on leading academical painting for designers and pastel courses. From 2006 to 2007, under Lena`s management, she spearheaded and launched the 6 months drawing course for illustrators of the Lebedev`s studio.
The Works of Elena Tatkina
This course is the new and improved version that has been based off the previous course and includes all the positive suggestions and feedback that we have accumulated.
We have added a groundbreaking new technique showcasing color blending that is unique and has not been used at any other schools. We ensured to use the most modern and efficient materials for this exercise.
For this reason, you should be excited! This updated "Pastel Course for Beginners" is guaranteed to be exciting and interesting for everyone, whether you are a first-time student, or ether you have joined us before.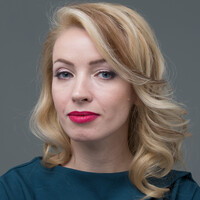 I will be thrilled to see all of you who really want to learn pastel drawing techniques! If you are a beginner, you should start with this course. It will also be useful for those of you who have been drawing for a long time and who want to learn something new. It is also valuable for those of you who want to explore further and practice the modern techniques and experience the colors from another point of view. You are guaranteed to learn something new!
List of materials needed for the course
Dry pastel (soft) of any professional brand.
Recommended brands:
Unison halves (120 pc) — good set for the beginning;
Rembrandt 90 col. halves — full set;
Rembrandt 60 col. + additional affordable set.
Affordable pastels:
Munguo gallery — 90 pc. (not handmade!);
Peroci — marine or scenery set;
Peroci and Rembrandt can be combined together.
Important!
You should have enough of grey tints, green - from dark to light and dark brown.
Dry, soft pastel (ultra-soft
Additionally to Rembrandt. Any kind of brand: Koh-i-noor ULTRA soft, Schminсke, Sennelier;
In general, you will need these colors for soft pastel: dark purple, dark blue, purple, dark brown and "flower colors".
Pastel pencils by the piece (optionally):
white;
Light natural umber;
Dark burnt umber;
Black.
Other:
Drawing paper Canson Mi-Teintes «5 shades of grey», А4 size or А3;
Sand paper: (abrasive paper) from the hardware or automotive store № 600-80 for metal — 2 pc, size А4. If you don`t have sand paper you can use instead Canson Mi-Teintes Touch— А4.
Eraser for soft materials;
Surface А3;
Masking tape;
Blending Stumps of 2 sizes (paper or silicon) — optionally;
apron;
cutter.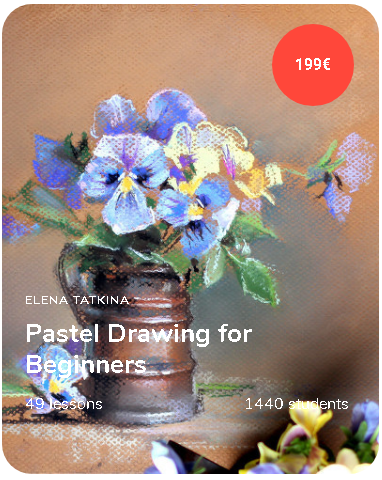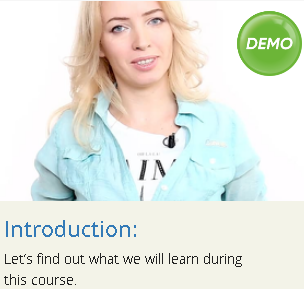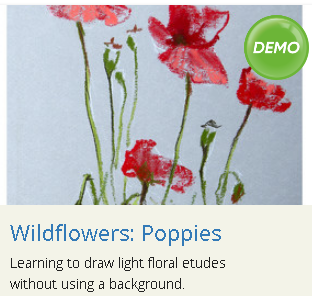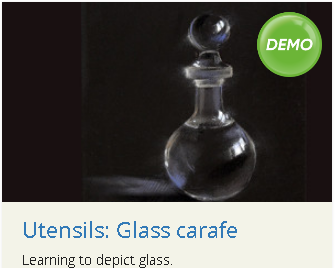 Join the Queen of iPads and the Stylus Pen and discover Digital

Illustration together with Lera Kiryakova with our newest online course: - Digital portraits.