This is the 2 part of the Online Watercolor Course for beginners. 3-week long program of learning watercolor techniques including 24 video lessons + 4 Bonus master classes specifically designed for beginners. The course has been developed by watercolor professionals and e-learning methodologists. Over 30 000 people around the world have already benefited from participating in this course.
The course is designed in such a way that you do not merely just copy a photo reference, but rather allows you to develop a deeper understanding of watercolor methods and techniques. All you need to do is simply watch a video, follow the teacher's instructions, take a photo of your work, and upload it onto the website.
Check out how detailed our classes are! Almost every lesson contains an assignment and the number of asterisks in the title indicates how much time might be required to complete it.
What you will learn in this course
1. How to select the correct materials: types of brushes, paint brands, paper, and color palettes.
2. How to paint beautiful washes while using the appropriate water-to-paint ratio.
3. How to apply various tricks like a pro – working with saturation, value, and color.
4. How to convert the theoretical knowledge acquired during this course into practice.
5. How to make even the simplest paintings look exciting and fresh.
6. How to select the best painting technique for a certain type of paper.
7. How to create intentional watercolor splashes, blobs, and drips.
8. How to convert your art ideas into a reality.
These and many other artworks were created by the students who enrolled in our online course without any prior experience in painting. They successfully completed the online course and mastered working with watercolour. You can do it too!
ART SUPPLIES AND MATERIALS:
-Composition of paints, pigments, and their properties
-Watercolor palettes
-The required set of basic brushes
-Squirrel brush for basic techniques
-Flat brushes, calligraphy brushes
-Fan brush, angle brush, and special brushes
-Liner brushes
-Testing watercolor brushes
-Overview and testing of the different types of paper
-Blocks, pads, rolls, and sheets
-How to choose the right paper
-How to stretch watercolor paper on a board
-You will learn everything about the drawing materials, the purposes they serve, and what properties are important.
Course author and instructor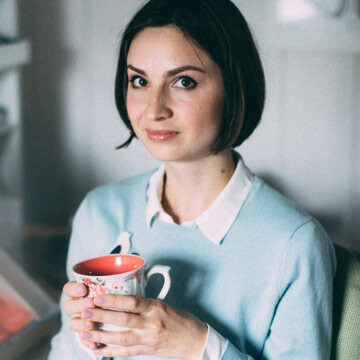 Veronika Kalacheva – the author of this online course
Illustrator & watercolor artist
Veronika graduated from the Moscow State Pedagogical University in 2004 and qualified as a graphic artist. After graduating, she worked as a Commercial Illustrator. Today Veronika creates book and magazine illustrations for a few well-known publishing houses. In addition, since 2013 she has been focusing on leading online courses.