The excitement comes with the first watercolor drawing. We would like to share with you the techniques on how to paint a rose. It is easy to approximate the shape of a flower with brushstrokes. However, a detailed approach to the steps of watercolor painting will give a thorough understanding of how to bring a rose to life on a canvas.
Designate the forms as accurately as possible from the center of a rose. Use the shades that were originally selected to complete the painting.
Gradually add colors and surround with new brushstrokes. The center is more saturated compared with outer petals that have lighter colors. It is advised to use magenta mixed with cold orange paint.
When watercolor dries out, let's pick up more saturated shades of the petals to create the shadow and to separate the visual image of the petals. Do not leave spaces, so that a flower is perceived as a whole. Those saturated brushstrokes should not be watery.
Afterward, alternate dark with light exterior strokes diluted with water. Add some violet to make the line darker, then add smudged brushstrokes.
Gradually continue to surround the center with the same tactic from the top to bottom unifying petals by going smoothly from saturation to blur.
For this technique, we need a smooth paper since the one with texture requires more water.

To have a soft and smooth transition color, use a saturated line blurred by watery brushstrokes.
Exterior petals have different forms. They are bigger and easy to work with. Remember that there should be the right contrast between petals.
You can add more lines to the initial center. It happens since a watercolor fades away a bit over some time. So we can brighten up the vividity.
The flower is ready. Now we need to mix up the tube paint for greenery.
There has to be a dark saturated contrast.
Now we can clearly outline the flower itself. Mix the paint with some cold violet shades. Illuminated places of a picture should be more transparent.You can add some lemon color also.Take into account that the rose must have vivid colors as well as the background, so the two of them can stand out on a canvas.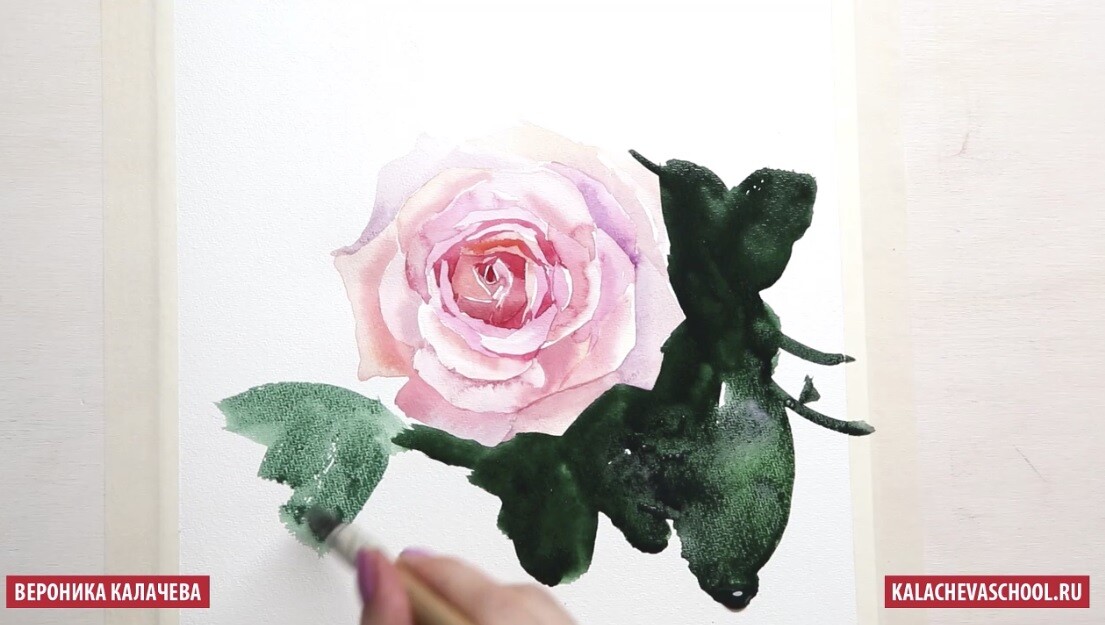 Like that neither a rose nor a background would not be "competitive" or pale.
The drawing with watercolor of any flower requires a lot of concentration. Be vigilant about the lighting.
Do you want to master your skills in watercolor drawing? Register for your lesson with kalachevaschool.com
Artists wonder how to improve their style. It is better for them to work faster and to complete the artwork at one's ease.
Besides the fact that painting is a popular hobby, it is also proved to show positive effects for a brain's work.
We have designed these short-guided series to get you acquainted with the watercolor world. We have decided to make it so affordable.